Hosting a virtual holiday party on Gather gives your remote team a way to interact more naturally than you would on Zoom or Google Meet, while also avoiding the cost and logistics of flying everyone to an in-person event.
This guide will teach you how to host a holiday party on Gather for your remote team and offer ideas for activities and space design.
Requirements
You'll need to create a space on Gather to host your party. This can either be your existing office space or a custom wintery one. Click here to get started.
If your party is for fewer than 10 people, you can use Gather's free plan.
If your party is for more than 10 people, you'll need to purchase a subscription or reservation. Click here to read our Pricing Overview.
The space design recommendations in this guide will require Build Tool or Mapmaker access. Review our User Roles and Permissions to make sure you have the access you need.
Overview
Create your holiday party space. (This can be your existing office on Gather or a custom wintery one.)
If you'll have more than 10 guests, purchase a subscription or reservation.
Decorate the space with holiday themed objects. Jump to this section for ideas.
Plan team activities to hold during the party. Jump to this section for ideas.
If you're creating a new space, invite your teammates when it's time to gather.
Have fun! Enjoy the freedom of moving around, walking in and out of conversations, and strengthening relationships with your coworkers this season.
To get the most out of your time together, we recommend making sure everyone is aware of some simple and fun features of Gather:
Press 'z' to dance
Press 'f' to throw confetti
Press 'x' to interact with objects
Use emotes to express yourself, even when audio/video is off
If you have Applause enabled and enough people use the confetti, heart, or clap emote at the same time, you'll see/hear a surprise :)
If this is your team's first time in Gather, check out these resources for helping everyone get started.
Ideas for Decorating the Space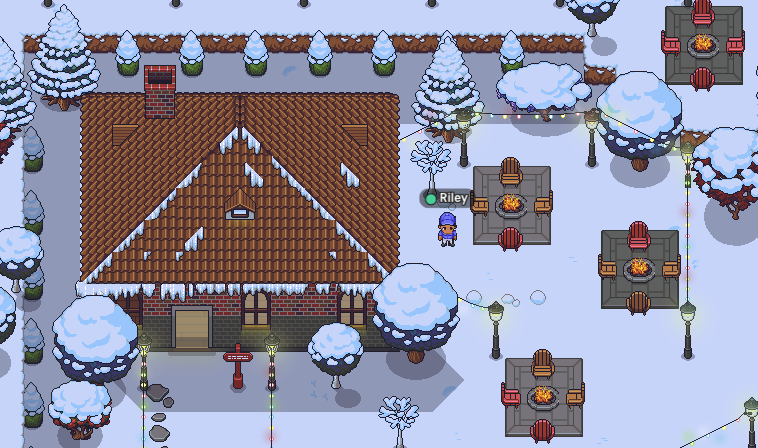 This image is from our Winter Gathering template. Each fire pit is its own Private Area for small groups to talk, and the lodge opens into a large room that's perfect for speaking to the whole team.
There are three ways to turn your holiday party space into a wintery wonderland:
Start with a winter-themed space from our advanced templates. (Search for the Winter Gathering or Winter Cabin template.)
Use the Build Tool to place seasonal objects.
Use the Mapmaker to fully customize the space, including the background, objects, and tile effects.
The following ideas will only require you to place objects with the Build Tool. If you want to be even more creative with your space, we recommend reading the Mapmaker Overview or reaching out to our Ambassadors.
Winter Decorating Ideas:
Place snow-covered trees. (Look for the white color variation.)
Use the Terrain Snow Rug object to add patches of snow in the space.
Add holiday greenery like Holly, Mistletoe, or Poinsettias.
Search for Christmas, Hanukkah, or Kwanzaa for holiday-specific items.
Put Presents around the space. Bonus tip: Make these interactive with something embedded to add to the joy. (For example, a digital gift, holiday playlist, etc.)
Don't forget to dress your avatar in the holiday spirit with winter hats, ear muffs, and special seasonal avatars.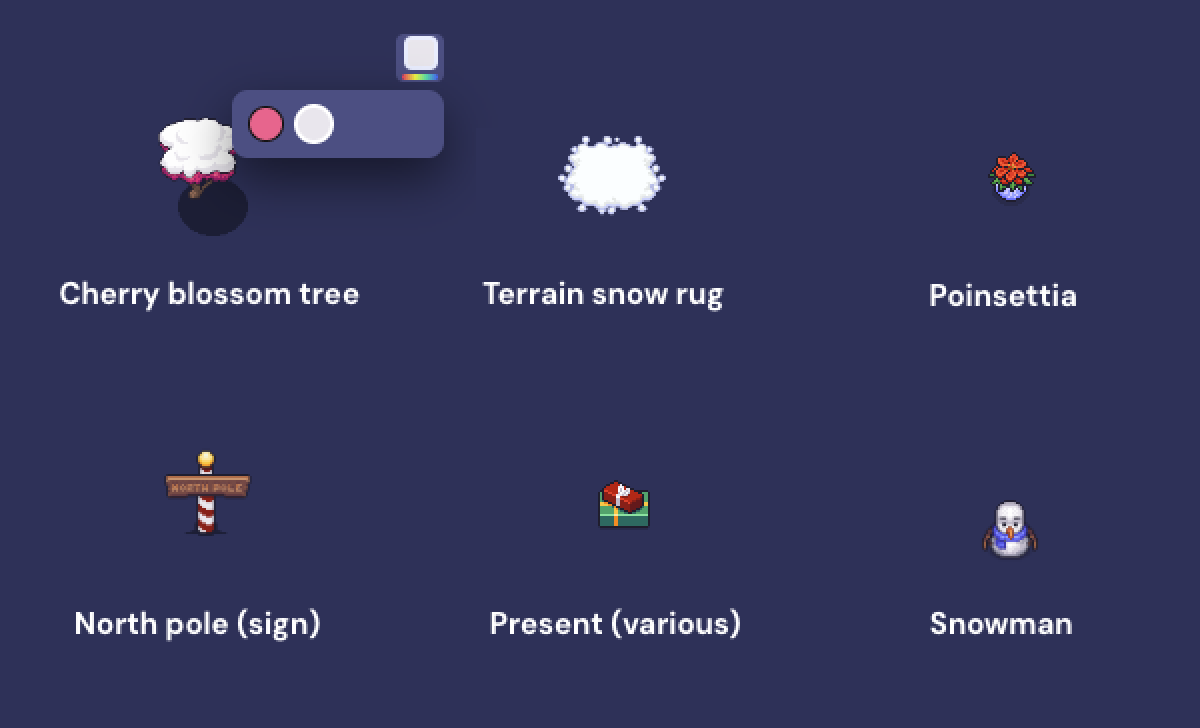 Ideas for Team Activities
No company social is complete without a game or two to get your teammates talking. Here are some ideas that are perfect for any holiday party.
Allow your team to get involved in the holiday decorating by hanging ornaments on the tree.

For this activity, participants will need access to the Build Tool, an optional feature for Members and Guests. Review your User Roles and Permissions before starting.

The first thing you'll need is a giant Christmas tree in your space. You can upload your own as a custom object or use the following file:

Place the tree in your space, and when you're ready, tell your team to start decorating! They can use the Build Tool to place objects on it.

If you want to keep it traditional, encourage everyone to use Ornament objects.
If you want to get creative, allow people to place any object on the tree.
If you want to get really creative, tell people to upload custom objects as ornaments. (For example, you could use your company logo, pictures of people's pets -- have fun with it!)

Pro-tip: If you upload custom images to use as ornaments, save them as a .png with a transparent background. A tile in Gather is 32 x 32 px, so we recommend using ornament dimensions smaller than that.

Spread some holiday cheer by giving each other gifts! You can do this by either leaving a note on their desk or using the Build Tool to manually place a Present object in someone's workspace.

You can type a note in the object to share words of gratitude, or embed a website URL like:

A link to a holiday playlist
A link to a holiday video from your leadership team
A link to a digital gift card

By embedding a URL in an object, you can make it interactive and give employees a way to give each other shoutouts.

For example, you could add a Bulletin Board to your space and link a shared Google Doc, Google Slide, or a Miro board that your team has access to.

Tell everyone to add their favorite memories from the year, notes of gratitude, or things they're excited about in the new year. Once everyone has participated, gather around the board to read it together.

Thanks to your virtual holiday party space, people can easily move in and out of conversations. This lends itself particularly well for virtual Christmas caroling!

If you have a small group of talented vocalists, they can walk up to groups of people talking in the space to sing. When they're done with their song, they can walk away and head over to the next group!

If you have an office on Gather, this is also a fun activity to do during the work week -- the carolers can surprise people as they're working at their desks.

Games are an easy way to break the ice and get your team talking. That's why we have several pre-built game objects that link to simple online games like Tetris, Codenames, Draw Battle, and more. You can see the full list of games here.

‍Pro-tip: Can't find the game you're looking for? You can embed a URL into any object on Gather for quick access from your space.

Perhaps the most important activity for your holiday party is to simply create areas that facilitate conversations. Consider having spots for small groups to talk, plenty of "hallways" where people are likely to bump into each other while moving around, and obviously enough room for everyone to be in the space at the same time.

If you need to makes changes to the layout of your space, you can use the Mapmaker. This will allow you to add/remove objects and place Private Area Tile Effects to create more nooks.

To fit the holiday party theme, we recommend creating Private Areas around Fireplaces, near a Snowman, or on benches on top of snow.
Next Steps