Planning a holiday party in Gather? Add a festive tree! Nothing brings people together like decorating a tree—debating the best branch for the panda ornament to be on, how many candy canes is too many, and whether the tree topper should be a star, angel, or ham. Just pick your space, add a tree, review user build settings, and throw your party!
Overview
Setup: Just add a tree to your space and allow members to use the Build Tool
Participation Difficulty: 🟢 🟢 (Super easy)
Players: As many as your Map/reservation allows!
Emcee: Not needed
Average Time: 30-60 minutes
Media: Christmas tree image (included below) + any custom images
Pick Your Space
You can add a tree to any space, or use the Winter Gathering seasonal map. It already has a tree in it, so you can use that one or you can always add another!

Add the Tree
If you want a giant tree without any decorations on it, you can save the tree image below. (Just right click and choose Save As and save as a .png).
Then head to your space, open the Object Picker, and upload the tree as a custom object. (You may want to add the tree from the Mapmaker so you can pick the perfect spot and move any objects out of the way.)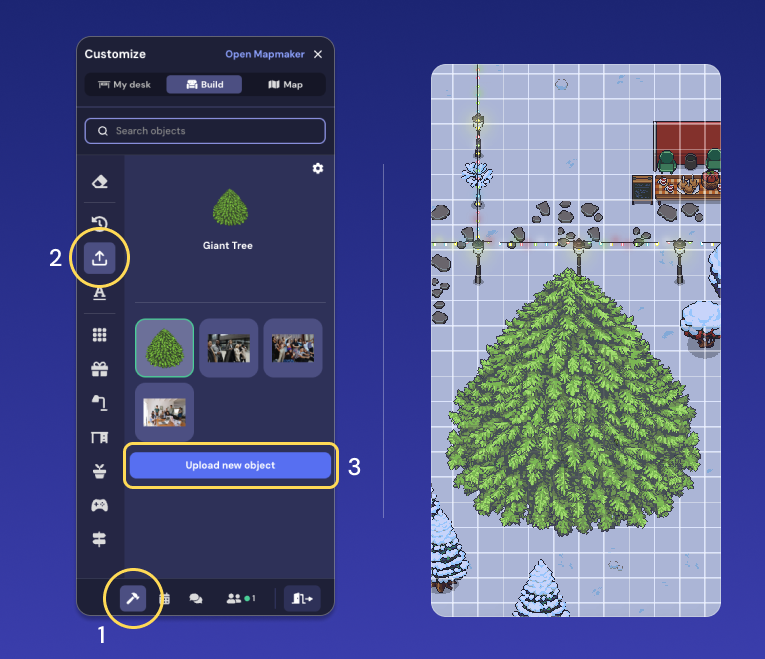 Turn on Build Tool Access for Members
For everyone to decorate the tree, you'll need to make sure Members in your space are allowed to use the Build Tool.
Open Settings, click the Space tab, and then click Role Configuration. Review Member settings and make sure "Use build tool" is toggled on.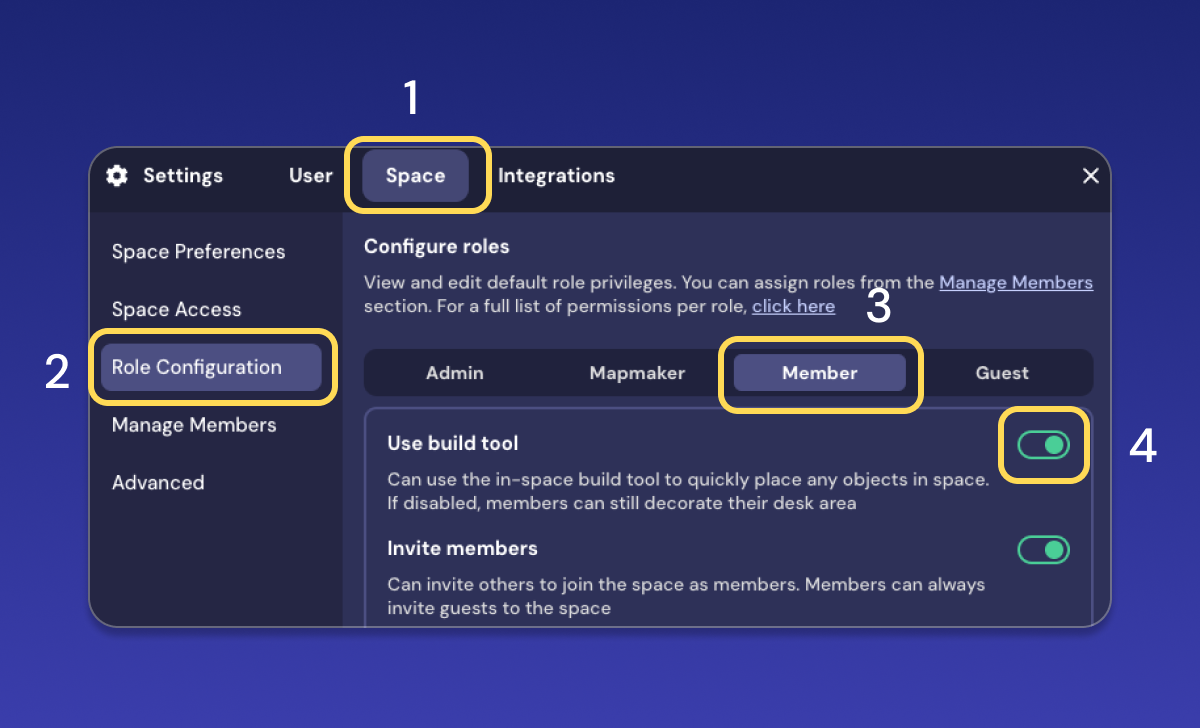 This will allow all members to use the Build Tool to place objects in the space, so they can help decorate your tree. You can search for "ornament" in the Object Picker or you can put any object on the tree. Let your team's creativity shine!
Throw Your Party
Now you're ready to host your party! If you're on the free plan, you can have up to 10 members in the space at the same time. If your team is larger than that, make sure you're all set with a monthly subscription or one-time reservation.
Not sure what plan you need? You can view pricing here.
Bonus Tips
Use Chrome and share your tab audio to stream holiday music (we fully expect "Rockin' Around the Christmas Tree" to be on it).
Decorate a tree for any holiday - make a spooky black tree festooned with tiny carved pumpkins!
Upload custom objects as ornaments! Just make sure to save as a .png with a transparent background, and keep in mind that a tile is 32 x 32 px, so your ornament dimensions should probably be smaller than that.