Gather offers two types of pricing: Monthly/Annual Subscriptions or One-Time Reservations. This article will cover everything you need to know about managing a one-time reservation on Gather.
A one-time reservation is best for a single event with a start and end date, such as a virtual conference or community meetup. To learn more about purchasing a monthly subscription (best for ongoing use of a space like a virtual office or classroom), click here.
Overview
To create and make changes to your reservation, you need to be an Admin of the space. Click here to learn more about user roles.
To create, edit, or cancel your reservation, navigate to your Space Dashboard. You can get there two ways:
From the Gather app homepage: Find the space you want to manage the reservation for. Click the three-dot menu to the right of the space name and click Manage Space.
From within the space: Click the Main Menu button at the left of the bottom navigation bar. Click Upgrade Space.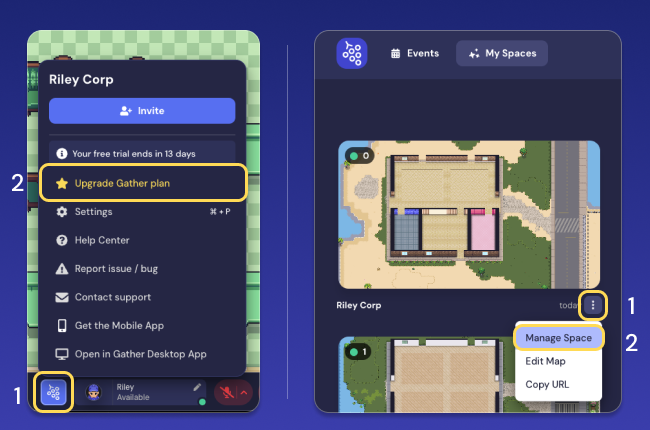 By default, this will open to the Reservations tab. This is where you can manage your plan.
Create a Reservation
The price of a Paid Reservation is determined by the length of your event and the Space Capacity that you set.
If your event lasts 1-3 days, you'll be charged the daily rate of $3 USD per user per day
If your events lasts 3+ days, you'll be charged the monthly rate of $7 USD per user per month
For example, a two-day event with a Space Capacity of 20 users would cost $120 ($3 per user per day) and allow 20 users to be in the space at the same time.
To create your reservation:
Click the One-time events toggle in the Reservations Tab of the Space Dashboard.
On the one-time plan card, click Select.
Select your space capacity, timezone, and start and end date of your event. Your reservation will start at 12:00 AM on the start date and end at 11:59 PM on the end date based on the timezone selected.
Click on Next: Payment.
Fill out your payment details or select the invoice option and click the Pay button on the right.
You can choose to pay for your reservation with a credit card or invoice. If you choose the invoice option, you'll be emailed a formal invoice from Stripe, our payment processor. You can pay the invoice through credit card, ACH transfer, or check.
Payment must be made before a reservation is activated. If you can't arrange payment before your event, contact us.
Increase or Decrease Reservation Space Capacity
You can increase Space Capacity for your Reservation leading up to and during your event. You can decrease Space Capacity leading up to your event, but will not be able to decrease it once your event has started.
To Adjust Reservation Space Capacity:
Find the reservation from the list and click Manage
Click Update space capacity
Enter the updated space capacity. You'll be shown the updated price.
Click Pay Now to charge the card used to make the reservation.
It will take approximately 15 minutes for the change to take effect and redistribute resources to increase your space's capacity.
Cancel your Reservation
You can cancel your Reservation at any time before your event begins. Once it starts, you will not be able to cancel the Reservation.
To cancel your Reservation:
Find the reservation from the list and click Manage
Click Cancel Reservation
You will be issued a full refund to your card within approximately 5-10 business days
FAQs
Yep! You can increase your capacity during your event, but you will not be able to decrease it. Please allow up to 15 minutes for the change to take effect.
No, we don't currently offer a refund for unused space capacity. We recommend adjusting the number before your event begins, so you don't overpay!
There is not currently a way to change your start/end date once your reservation has been made. If you need to make changes, we recommend cancelling your reservation and creating a new one with the updated start and end time.