Gather currently has limited functionality on mobile browsers. For the best experience, we recommend using the Gather Mobile App, Gather Desktop App, or a desktop browser.
Check out our new Mobile App!
Learn more and download the mobile app on iOS or Android devices.
If you still want to use Gather on a mobile browser, this article explains how to do so and offers common troubleshooting tips.
Using Gather on a Mobile Browser
Your experience may vary slightly based on your device's operating system and browser. Right now, we do not support Gather on Google Chrome on iPhones.
When you visit a Gather space on your phone, a warning displays that functionality is limited. Select I understand and wish to proceed. (If you'd prefer to visit the space on your desktop, enter your email address and select Submit. You'll receive an email with a link to the space.)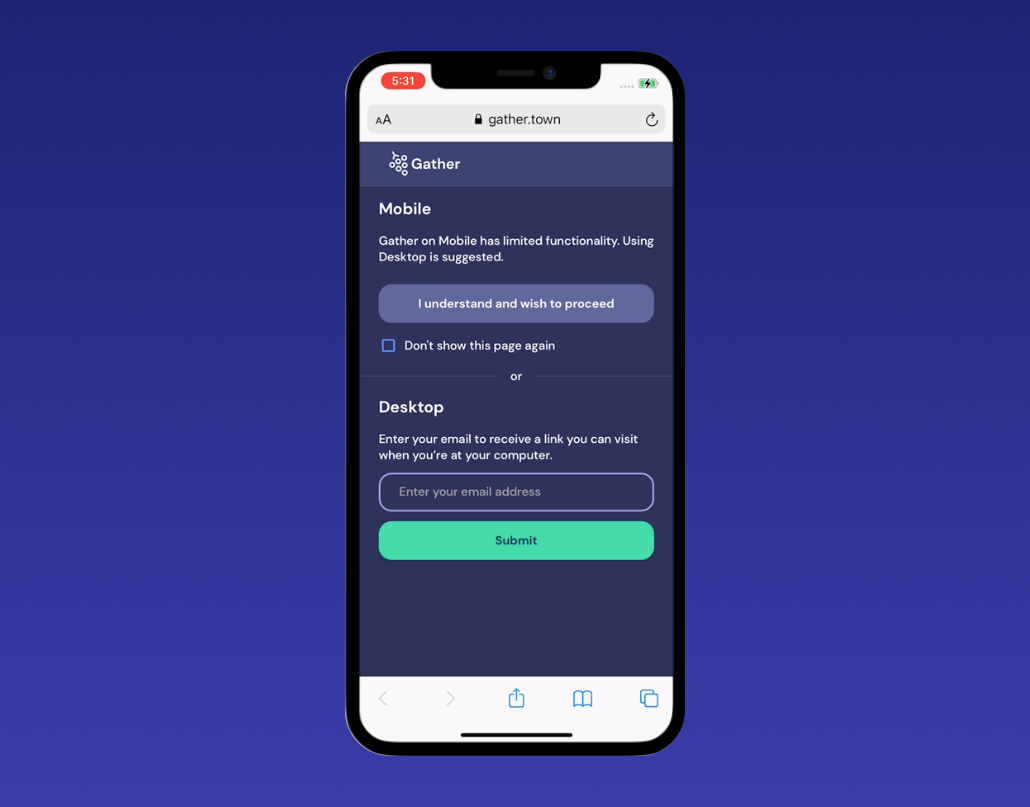 If you haven't visited Gather on your phone before, you'll be prompted to grant permission for Gather to access your microphone and camera. Select Allow.
Before you enter the space, you can make all the normal adjustments like checking your audio and video, customizing your character, or changing your name.
Once you're in the space, you can move by double tapping the screen or holding and dragging your finger.
When you approach someone, their video preview will show at the top of your phone screen. Tap the camera icon beneath their video preview to turn your view of their video feed on or off.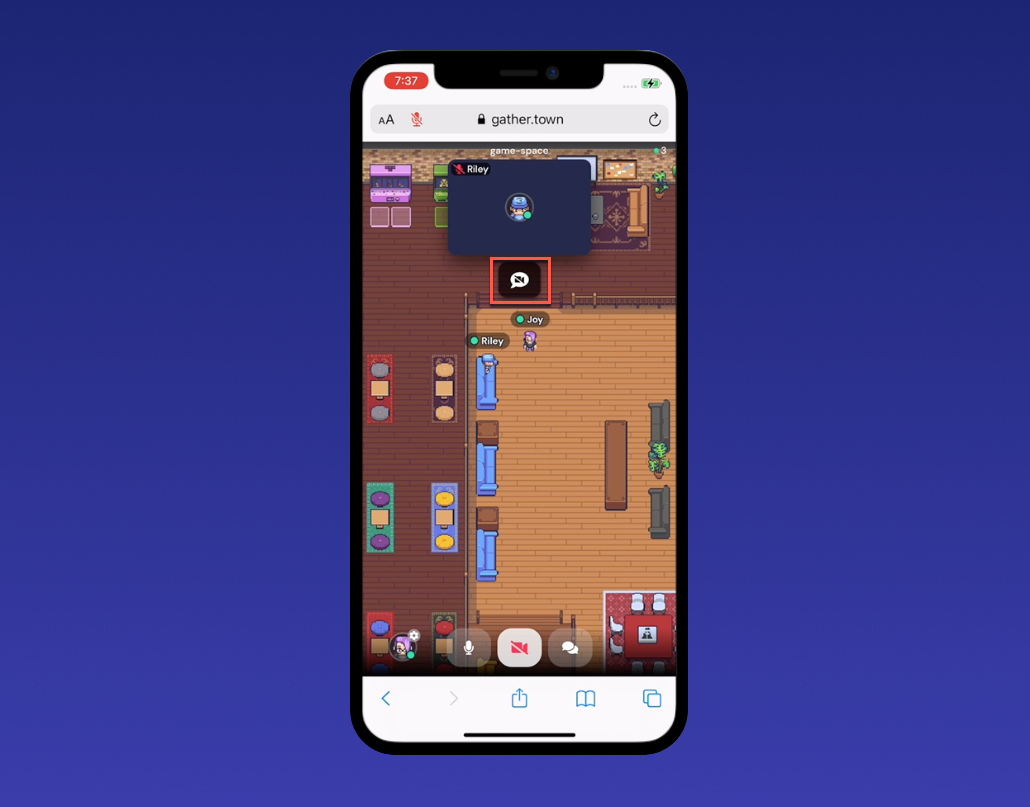 If you encounter an interactive object, an "x" icon will display at the bottom right of your screen. Tap the "x" to view the interaction.
Currently you cannot play videos on mobile that are embedded in interactive objects.
If you need to adjust your user settings, you can do that by tapping the Settings icon at the bottom left the screen.
Mobile Browser Troubleshooting Tips
If you're encountering issues with Gather on a mobile device, we strongly recommend switching to the Desktop App or a desktop browser if possible.
If you're having trouble hearing or seeing other users while on a mobile browser, you can try these tips.
Turn your mic and/or video off and on again.
Turn off the video feed of people you're connected to, which will prioritize their audio.
Refresh the video feed of people you're connected to by expanding it to full screen.
Currently on iOS Safari, you need to mute and unmute your audio and video manually when you enter a new conversation. Otherwise, you can see yourself, but others cannot hear or see you.
Need more help?
Check out Gather Status to see if Gather is having any issues site-wide.
Report a bug by clicking on the Gather menu in the lower left of your space and selecting Report an Issue.
Contact support for individual troubleshooting help.